2021 July-September Workshops Have Not Been Scheduled
The Workshops
I'll be offering workshops on Saturdays and Sundays beginning in July for making your own tombstones. All workshops are from 9 am - 5 pm. If you wish to schedule a group of people during the weekdays, please let me know. I would be happy to schedule a separate workshop. Material costs are included in the pricing. Everything depends on how Covid-19 is going.
Please email me when you register to give me your contact information.
---
1 Create a tombstone from "scratch" - You will cut out the shape of your choice, dremel the channel for the pvc pipe holder (stablizes the tombstone in the yard), glue the 2 pieces of foam together, engrave the letters, attach embellishments, seal & paint the tombstone, and put the finishing touches on it. The size of this tombstone will be approximately 24-32 inches tall and 18-20 inches wide. If you wish to bring embellishments, such as skulls, crosses, statues, or cutouts, you are welcome to do so. You can also cut embellishments out of extra foam pieces when you are here. You will need to bring your printed name and epitaph to transfer to your tombstone.
These are some I've made from scratch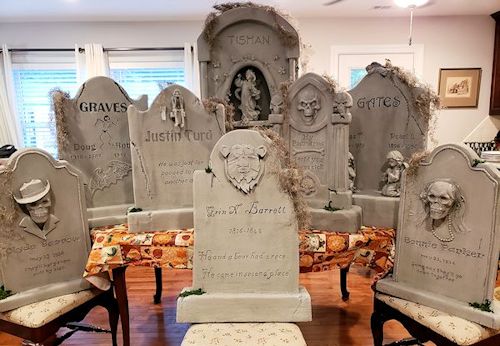 The cost is $55 for the workshop. The workshop is limited to 6 people.
This workshop will be offered in July, August and September. It is a two day workshop (the tombstone will dry overnight), with the second day being shorter.
To register, choose your date and pay for the class with the "Buy Now" button. A minimum of 3 people per class. If there are less than 3 people, your registration fee will be refunded.
$55
$55
$55
---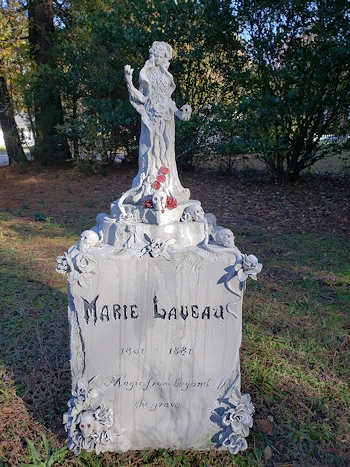 2 Create an elaborate pedestal tombstone using a statue, monster-mudded flowers, snakes and skulls to embellish your tombstone. The tombstone you will create is Marie Laveau with the epitaph of "Magic from beyond the grave." The finished height of the pedestal tombstone is approximately 36-38 inches tall. The pedestal box is pre-assembled* with only the name and epitaph carved. You will design and attach all embellishments, including the statue.
The cost is $60 for the workshop and materials (which includes the statue, flowers, skulls, snakes, base). The workshop is limited to 3 people and only one workshop offered as I only have 3 statues.
To register, pay for the class with the "Buy Now" button.
$60
---
The Procedures
No children under 15 years old allowed - no exceptions. Children between 15-18 must come with an adult.
You may bring a friend, however, since space is limited, there is a $10 charge. You will need to check with me first, since there may not be room for your friend.
Please wear comfortable clothing that you don't mind getting paint, glue, etc. on and wear closed-toed shoes.
Bring a sack lunch, as you may get hungry. We will not stop for lunch, but feel free to eat when you need to. (A microwave will be available)
Make sure to print the name and epitapth that you are going to use. I use "Word" for this. This applies only for workshops 1 & 2.
No refunds will be given. If you cannot make a workshop, you can choose another workshop that is available in 2021. There are no "carry-overs" for the following year.